I've decided to finally open up some online Commission work. I'm aiming to save up for potential Art Tables and possibly moving back into Boston again if I manage enough. Please read the following if you are interested in commissioning me! If you have any questions, please feel free to message me!

**I'm raising my prices from before. I apologize but I'm in need of money! Those who have earlier commissions will not be effected by this change.
**IMPORTANT: For those paying via Paypal, please please please pay the normal way. I understand people may be annoyed with the fees, but they are a company as well and this is a very small additional add-on to the price. Gifting should not be used unless it is actually a gift and not business related. I could potentially have my Paypal banned if this happens. For more information regarding this, please check
this
post. Thank you!
Paypal: briannaplaud@gmail.comInfo/Rules:
*PM me if you would like a commission. I will place you on the list as pending until payment is processed.
*I will begin working on a commission once payment has gone through
*Please provide me with your current e-mail as I will message and attach the commission to you that way.
*I also only have paypal at this moment. I cannot accept any other form of payment.
*Explicit Art: Yes, I can do it however I would very much prefer it be artistic nude and not anything regarded as 'smut'.
*I will be updating the lists as I work on commissions.
*References: If you want your character to be drawn, please provide a link to their character sheet, otherwise tell me the name and series the character is from.
**If the list is full and another commissioner pays before a pending member, your slot could be replaced.
*I will do multiple commissions at once if you would like.
*I can do either a painted look or inked with cell shading/paint. It's up to you

*If a section is completely taken up I can add another slot in, but in doing so will remove a slot from the previous sections.
Sketches:
Bust: $4 (
Extra Characters: Add $2
)
Full: $8 (
Extra Characters: Add $3
)
Ex. (Bust Sketch)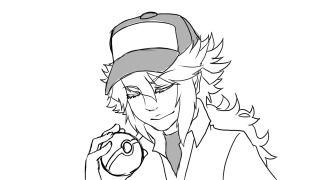 Ex. (Full Sketch)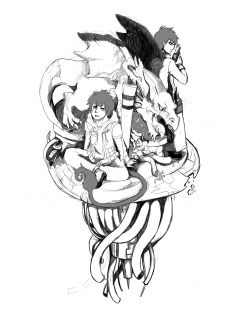 Bust:
1. HunterTSF: Egg Pawn Gijinka
2.
3.
4.
5.
Full:
1. InfinityBiscuit: N and OC
2.
3.
4.
5.
Ink:
Bust: $10 (
Extra Characters: Add $4
)
Full: $15 (
Extra Characters: Add $5
)
Ex. (Bust Ink)
Ex. (Full Ink)
Bust:
1.
2.
3.
4.
5.
Full:
1.
2.
3.
4.
5.
Color:
Bust: $20 (
Extra Characters: Add $5
)
Full: $40 (
Extra Characters: Add $10
)
Ex. (Bust Color)
Ex. (Full Color with BG)
Bust:
1.
2.
3.
4.
Full:
1.
2. HunterTSF: Blaze and Sonic
3. HunterTSF: Disco Eggman (Sketched)
4. Needler: Link fighting Skull kid atop Clocktower with Four Giants & Moon
5. Needler: Massive Golden Sun collage
6. Needler: Darksiders II fight between Death and War (Sketched)
Backgrounds:
Inked: Add $4
Colored: Add $10
**Sketched backgrounds are free of charge